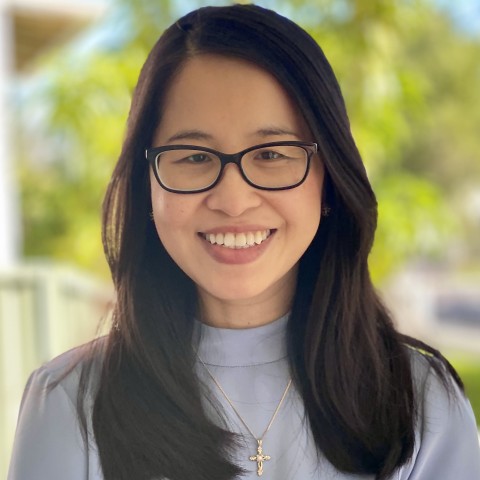 Dr Therese Pham is an experienced and caring general practitioner. She thoroughly enjoys helping patients achieve their full physical and mental well being. She endeavours to provide medical care for her patients in their homes and in residential aged care facilities.
Therese completed her medical degree at the University of New South Wales.  She is a former Eye Research Assistant affiliated with the University of New South Wales and Prince of Wales Hospital. She published research posters and papers whilst pursuing her studies in medicine.
Therese was a resident at the Bankstown-Lidcombe, Campbelltown and Prince of Wales Hospitals.  During this time, she developed clinical skills in various medical and surgical sub-specialties, emergency medicine, paediatrics and geriatrics. Therese is passionate about all aspects of medicine, thereby she chose to enter General Practice Training in 2008. She became a Fellow of the Royal Australian College of General Practitioners towards the end of 2009. In order to provide focused  care  in Women's and Men's Health, she completed the doctors course with Family Planning Association Australia.  Therese is an active participant in all educational activities and attends conferences throughout the year to enrich her practice. She is a recognised antenatal shared care GP with the RPA Women and Babies, the Royal North Shore and Ryde Hospitals.  She has expertise in Men and Women's Health, Geriatrics and Paediatrics. Therese is knowledgeable and with over a decade of experience in General Practice, she enjoys solving complex diagnostic cases.
Therese is an authorised medicinal cannabis prescriber through further studies and training. She is always considering evidence based and best treatment options to improve her patients' quality of life. Therese is a caring General Practitioner who provides exceptional and holistic care to her patients.
Therese is an accredited supervisor for general practice registrars, and is also a clinical supervisor for 5th & 6th year medical students from the University of New South Wales. She received the UNSW Primary Care Supervisor of the Year Award in 2015. Therese is dedicated to training our future doctors.
Apart from clinical practice, her other passions are spending time with her family, travelling, and needle work.
Dr Therese Pham consults on Monday and Friday from 9:30 am – 1:00 pm, Tuesday and Thursday from 9:30 am – 5:30 pm and alternate Saturdays from 9:30 am – 1:00 pm.
---